Best places to study abroad for Pakistani Students. Using the top reasons for studying abroad, we've compiled a list of the top international study destinations for 2023, ranked by students who value selecting the ideal destination country over programs or institutions!
Every Pakistani student that wishes to study abroad has a desire of study in Italy. Italy is the home of brands, innovation, and emerging trends in fashion. In terms of fashion, footwear, food, cars, and many other areas, this country has brought a lot of innovative concepts and styles. There are a lot of reasons why you should think about studying abroad in Italy in the future. In Italy, there are two different categories of higher education institutions: private and public. These are some of Italy's finest universities. And here are the top universities to pursue a career in business if you're exclusively interested in business schools. it is one of best country to study abroad with few top benefits;
Free Education in Italy.
Non-EU nationalities must apply for a student visa at least three months prior to expected date of arrival.
Post study work permit
After Work permit get permanent Residence
With/Without IELTS
Bachelor, Master programs & Ph.D. programs are available.
Italian D National Visa, you will also have to pay a fee of 50 EUR
Living costs in Italy
A student typically needs between $1,500 and $2,000 a month to cover all living expenses. Depending on chosen lifestyle, these estimates could be $300 more or $300 less. Not all universities offer resident halls (also known as university hostels). Italy is the best places to study abroad as it is an excellent choice for students who want to study for free.
Accommodation ­­
Cost
Private residence
250-800$ per month
Rented apartment
300-500$ Alone: 500-800$
Student accommodation
Property taxes
300-450$ 30$
Utilities
220$
Gasoline and vehicle maintenance
(not necessary): 300$
Healthcare
40$
Groceries
250$
Shopping
$150
Miscellaneous
100$
Transportation
$40 (vary depending on the distance from residence to university)
Estimated Study costs (yearly)
-Public universities: up to 6000$
-Private universities: 4000$-41500$
Average Study costs at some of the top-ranked universities per year:
-The University of Bologna – 3550$
-The University of Trento – 4800$
-The Polytechnic University of Milan – 4700$
Scholarships in Italy
Crossroad Consultants can help to achieve up-to 100% Scholarship to study in Italy. The following study abroad scholarships in Italy are for Pakistani students who want to study for free at the best Italian universities. In addition to these, Italian universities provide over 250 scholarships for students from Pakistan and other countries. This make Italy one of the best places to study abroad.
Top universities in Italy
The University of Milan
University of Padova
University of Torino
Sapienza University DE Roma
Politecnico DI Milano
University of Genova
University of Pisa
Ca' Foscari University of Venice
European School of Economics
Milano Fashion Institute
Università Cattolica del Sacro Cuore
Study in Italy for free at the University of Bozen-Bolzano
Study In Italy For Free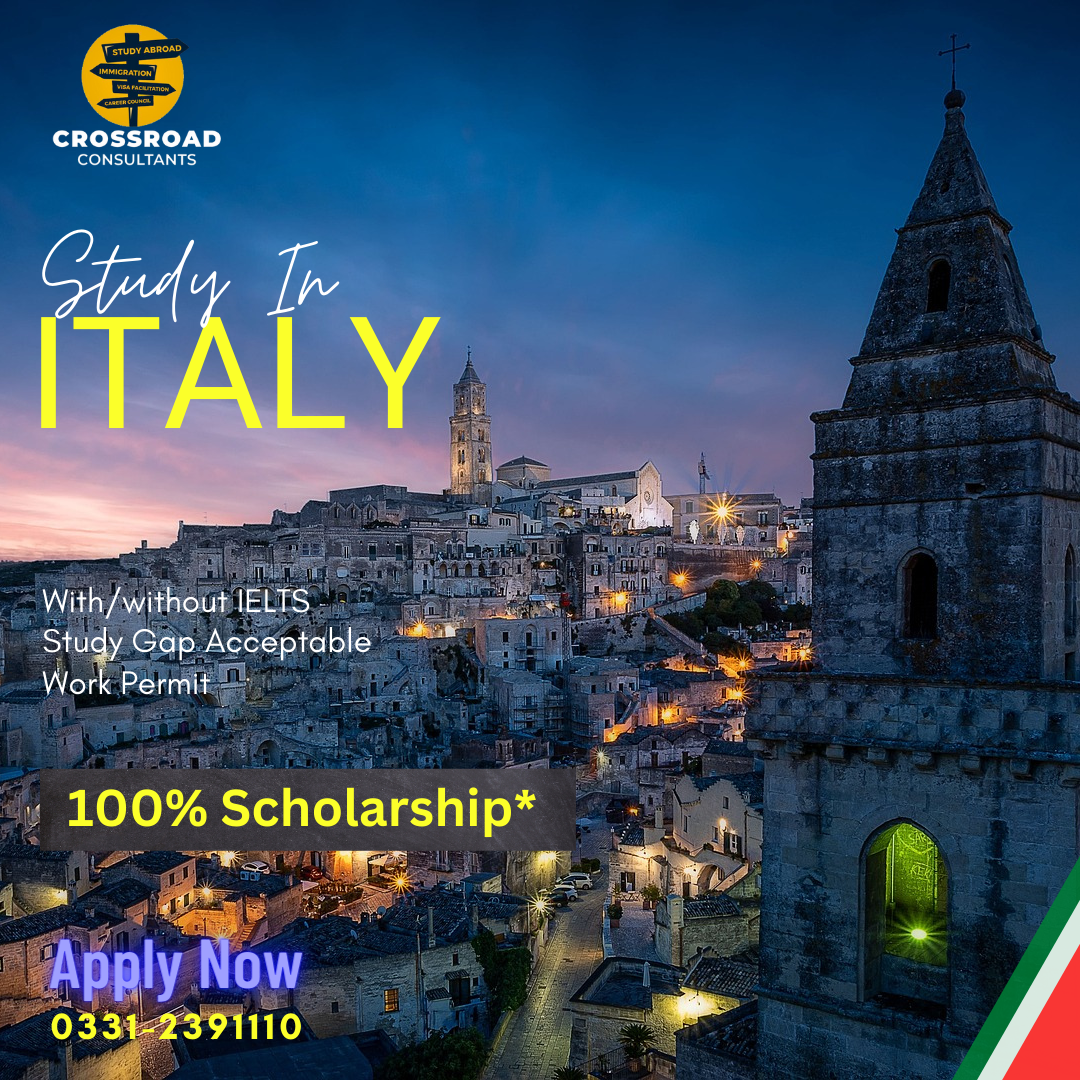 You must first get enrolled to a university that provides scholarships and full-time free housing for students if you want to study for free in Italy. The following step is to improve your resume to the point where they will provide you with the student visa and all other services without charging you.
Best places to study abroad as the educational system and institutions in Italy are among the best in the world and very student-friendly. The ideal country to study for free and obtain a respectable degree is Italy. You made the finest choice in terms of the free study plan by selecting Italy. Additionally, a few Italian universities provide their students with a variety of Ph.D. and research programs as well as scholarships for continued study at other foreign universities throughout the world.
You receive free housing, billing, study, and international travel, and the university covers all of your expenses. So if you want to earn a degree from a reputable institution without having to pay anything, don't waste any time and apply right away.
Study in a nation where the number of international students has tripled over the past ten years to its internationally renowned universities, highly practical program that emphasis hands-on learning, and some of the most reasonable tuition costs among English-speaking nations. Enjoy a high standard of living in Vancouver and Toronto, two of the world's "most livable cities," and build your career in one of the region's resource-rich, industrialized, and stable economies. All of these factor makes Canada the best places to study abroad for Pakistani students.
-Among the Safest Countries Globally
-Hands-on learning
-Paid Internships Available -Post Study Work Visa up to 3 Years
-Excellent Immigration Opportunities -Best places to study abroad for Pakistani students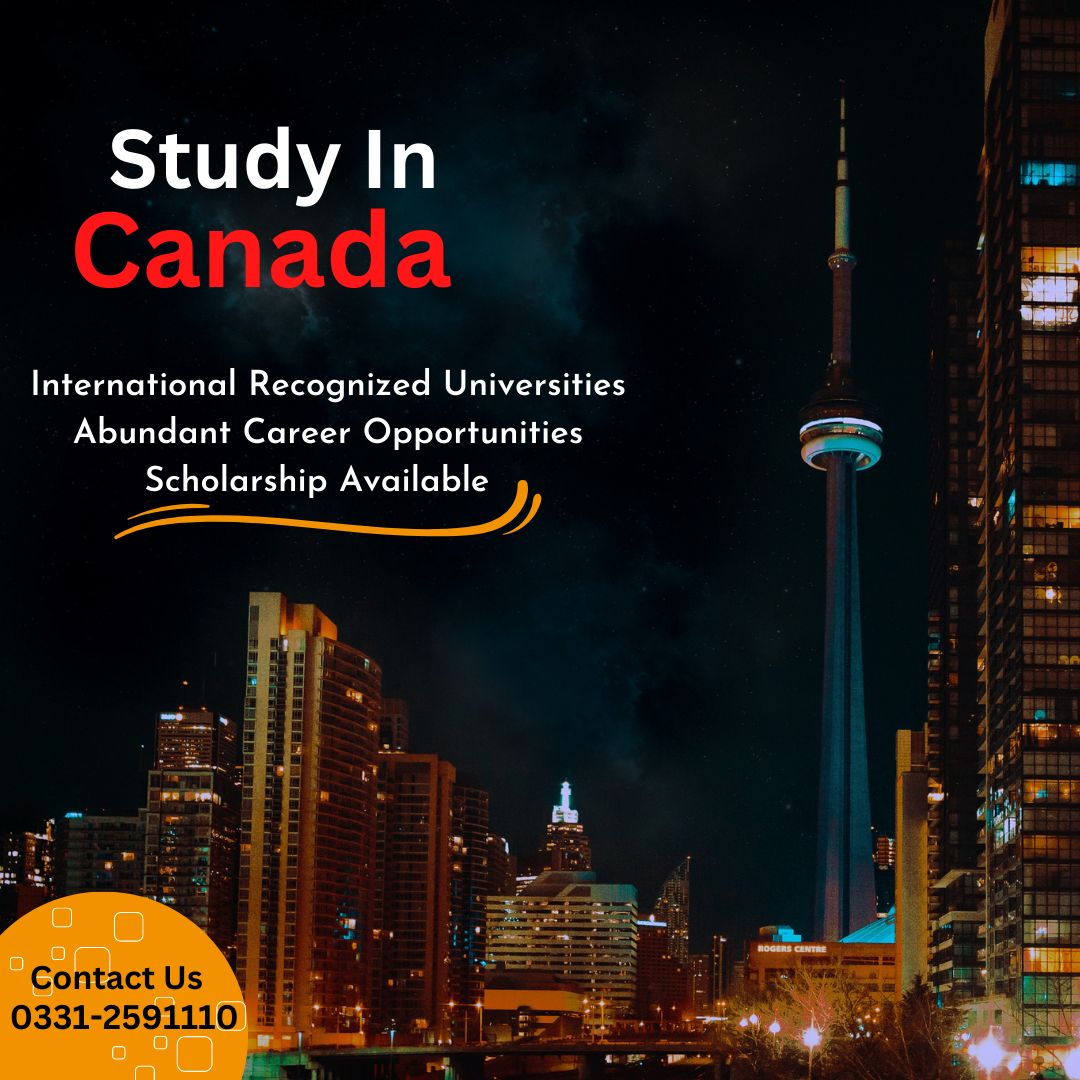 Cost of living in Canada
On average, living costs are around 15,000 per year for university students
| | |
| --- | --- |
| Accommodation/Expenses | Rent/Cost |
| Homestays | $400 – $800 per month |
| Dormitory | $3,000 – $7,500 per school year |
| Renting | $400 – $1,500 per month |
| Foods and groceries | $300 – $400 |
| Restaurants | $12.00 – $35.00 |
| Transportation | $100.00 – $150.00 |
| Utilities | $92.00 – $322.00 |
| Rent per month | $941.67 – $2,250 |
| Clothing | $25.00 – $80.00 (Depends) could be higher |
Estimated Tuition Fee
Tuition fee can depend on the type of program and university. – $6,800 per year for international undergraduate students – $21,100 per year for international graduate students
Scholarships for International Students 2023
There are alot of options available to have scholarship and it can be best places to study abroad.
Poland is best places to study abroad as its the finest country for providing both local and international students with the highest quality education. Poland's highly regarded universities and first-rate faculties can guarantee the quality of education. However, there are some other facts that can persuade someone to pick Poland as their preferred study abroad location.
Poland provides international students and other foreigners a fantastic culture and way of life. Multiculturalism is a way of life in Poland. Poland provides a lovely landscape, a top-notch healthcare system, and a safe environment. These are all the reasons why foreign students select Poland as the best places to study abroad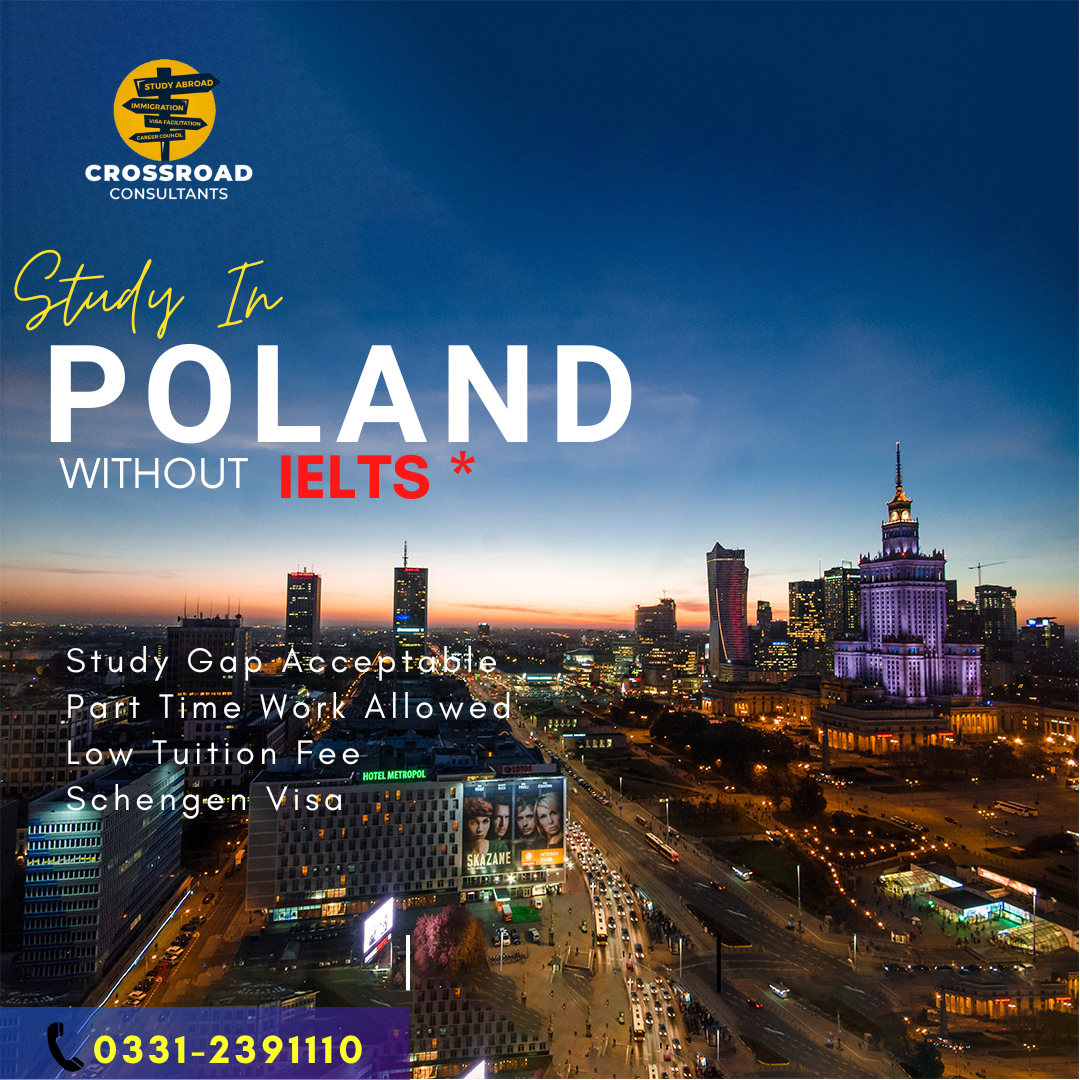 Work While Studying
According to a proposed laws, the Polish government now permits foreign students to work while they are studying there. This states that law students may work at least 20 hours each week. Additionally, in certain circumstances, summer break permits students to work more than 20 hours a week.
After Study Prospects
Poland is the best places to study abroad as not only are employment options for international students, but under certain conditions, international candidates are also permitted to apply for Poland Citizenship and Permanent Residence.
Health Insurance for Poland Student Visa
High-quality healthcare is provided in Poland. Every international student must obtain health insurance if he wants to study and live in Poland,. Private health insurance that covers medical issues is mandatory for students.
Student living costs in Poland
| | |
| --- | --- |
| Accommodation/Expenses | Rent/Cost |
| Apartments | 350 – 550 EUR/month |
| Apartments (Larger cities) | 500 – 850 EUR/month |
| Student residence halls | 60 – 150 EUR/month |
| Shared flat | 80 – 150 EUR/month |
| One-bedroom apartment in Krakow | 300 – 465 EUR/month |
| One-bedroom apartment in Warsaw | 350 – 650 EUR/month |
| utilities | Around 155 EUR/month |
| Food costs | 100 – 150 EUR/month |
| Transportation costs | 50 EUR for a semester pass |
| Internet | 26 EUR/ month |
Tuition fees in Poland
At state universities in Poland, tuition rates are normally in the range of US$2,230-4,180 per year for international students. Private universities in Poland charge significantly more in tuition; depending on your study and the university, this amount could reach US$6,600 per year.
The cost of tuition varies by institution and study programs, from EUR 2000 to EUR 6000 year (for MBA programs, this figure is between EUR 8000 and EUR 12,000). this also make Poland one of the best places to study abroad.
Scholarship in Poland for international students
Why Apply With Crossroad Consultants?
Best places to study abroad for Pakistani students, Crossroad consultants has successfully worked with thousands of students for their university application and visa process. We provide complete analysis and assessment of universities and programs.
We offer free consultancy service from which you can get answers to your queries. If you further have any question feel free to give us a call at 0331-2391110