Best Places to study in the world
Best study abroad destination in the world includes Australia, Germany, Canada, United States, United Kingdom
Using the top reasons for studying abroad, we've compiled a list of the top international study destinations for 2023, ranked by students who value selecting the ideal destination country over programs or institutions!
Study Abroad Scholarships for Pakistani students
If you're a Pakistani student in need of funding to study abroad, you're in luck – there's a wide range of international scholarships available to study in some of the world's most popular study destinations, including the UK, the US and Canada.
Study in Japan
Best places to study abroad can be Japan. Top universities: University of Tokyo (23rd), Kyoto University (36th), Tokyo Institute of Technology (55th)
For students wishing to study abroad in 2023, Japan is a solid choice due to its well-known hospitality and kind demeanor. It also has a wide range of technological breakthroughs, which is a big draw for students who want to study abroad. Its vast legacy of ancient culture and being home to thought leaders in their area are exciting components for students looking for study abroad alternatives, in addition to having some of the best STEM and educational programs in the world. There are many educational scholarships and opportunities available for  Pakistani students who wish to do their MBBS in Japan.
You will have the chance to fully immerse yourself in one of the most active civilizations in the world thanks to the high-speed and practical modes of transportation that are available throughout the nation as well as the mouthwatering culinary experiences that are available
The Japanese government has fully funded the MEXT 2023 scholarship programme. The Ministry of Education, Culture, Sports, Science, and Technology will pay for all costs (MEXT). Anyone interested in applying for this international scholarship in Japan must do so through the Pakistani Embassy of Japan.
Is Japan good for Pakistani students?
Japan, a nation with a strong economy, welcomes international students to its universities with attractive scholarships and financial aid. Pakistani students make up one of the largest percentages of international students in Japan.
Best places to study abroad for Pakistani students can be Turkey. Because English is so widely used as a language of communication, it has become more popular for Pakistani students to study abroad in Turkey. Pakistani students are drawn to study in Turkey because it offers a high-quality education at reasonable costs for both public and private institutions.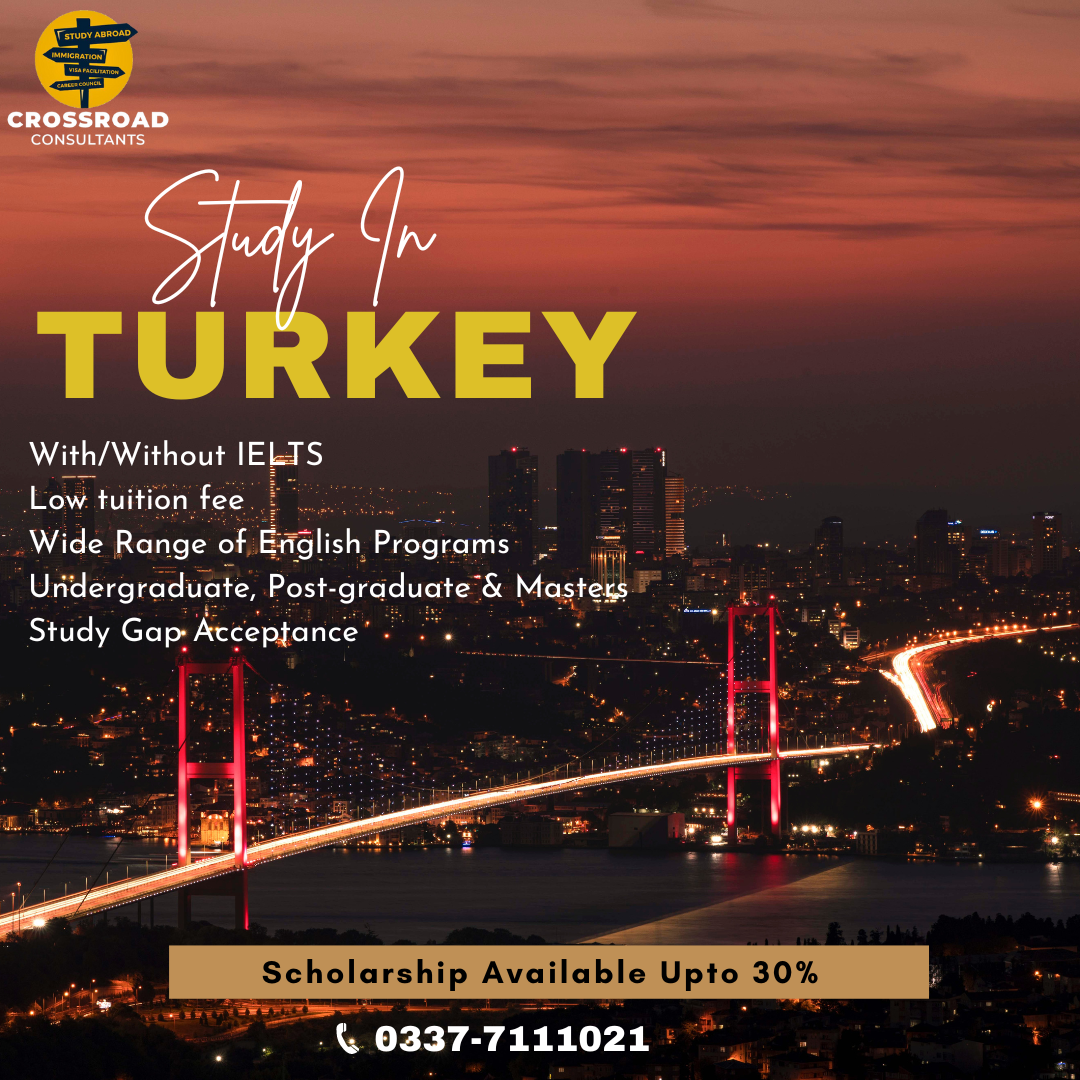 Study in Turkey in English and without IELTS and also Turkish medical universities provide a variety of medical programs from the bachelor's to the doctoral levels (Ph.D. and MBBS). Turkey's universities are among the best in the world. Pakistani students can benefit financially from studying in Turkey because it has much lower tuition than other countries. International students in Turkey can commute efficiently using public transportation. 
Pakistani students can get up-to 30%+ scholarship in turkey with Work Allowed during studies and PR Option after studies also students can avail Turkey Burslari Scholarship which is Fully Funded Scholarship offered by the Government of Turkey to facilitate its international students.. this is why turkey is also the best places to study abroad.
Cost Of Living
Cost of Living in turkey is reasonable and this make turkey the best places to study abroad for Pakistani students.
| | |
| --- | --- |
| Accommodation | Cost |
| University dormitories | Costs vary depending on the university and facilities |
| State dormitories | 24–38 EUR per month |
| Private dormitories | Come with much better facilities but also higher costs |
| Renting a flat | 68–283 EUR/month depending on the location and size of the apartment |
| Transportation costs | -Taxi: 2.85 EUR for a 5 km trip -Bus/metro: 0.20–0.40 EUR per ticket |
| Books and other study materials | 80 EUR |
| Monthly phone bill | 6.50–11.50 EUR |
| Private medical insurance | Starting at 34–57 EUR per year |
Study in UK is a difficult decision, however, our counselors are skilled in helping you locate your perfect location. The universities in the UK that are well-liked by Pakistani students are listed below. Ranking is simply one of many distinct factors that can be taken into consideration while choosing an institution.
Other considerations include the cost-effectiveness, the application process, the location, and the quality of living, the ranking of the subjects, the entry requirements, and the availability of jobs in the UK (part time and full time). However, our counselors are skilled in helping you locate your perfect location. Best places to study abroad for you can be UK.
There are a lot of scholarships available to a large number of international students UK
Cost of living in UK
In the UK, many colleges offer dorms for students. These residences provide excellent value for money and include utility fees in the total cost. First-year students are the ones that prefer student residential halls the most.
Many future graduates decide to rent a private space after their first academic year, either by themselves or with other students. Although it is more expensive, this choice provides a more accurate picture of what life is like in the actual world.
| | |
| --- | --- |
| Apartment | Rent |
| One bedroom outside of the city Centre | 610 GBP per month |
| studio flat in the city Centre | 740 GBP/month |
| Three bedrooms outside of the city Centre | 975 GBP per month |
| three-bedroom apartment in the city Centre | 1,255 GBP/month |
| utility costs | 90 to 160 GBP monthly |
Estimated Tuition Fee
Public universities
Tuition prices at public UK universities can vary widely. Depending on the university, the discipline, and the length of your studies, the "home" cost typically runs from 5,500 to 10,200 EUR annually.
The initial "home" fee is typically increased by 3,000–8,000 EUR by the "international" fee. In rare circumstances, it might even be two or three times as much as the "home" fee.
Private universities
Private higher education is often more expensive, while some study program at private universities have tuition costs that are equivalent to those at public institutions. Furthermore, these institutions frequently do not distinguish between people of the EU/EEA and those of other countries.
Per school year, students may pay anything from 5,000 to over 35,000 EUR. The most expensive majors at both public and private colleges are business and medicine.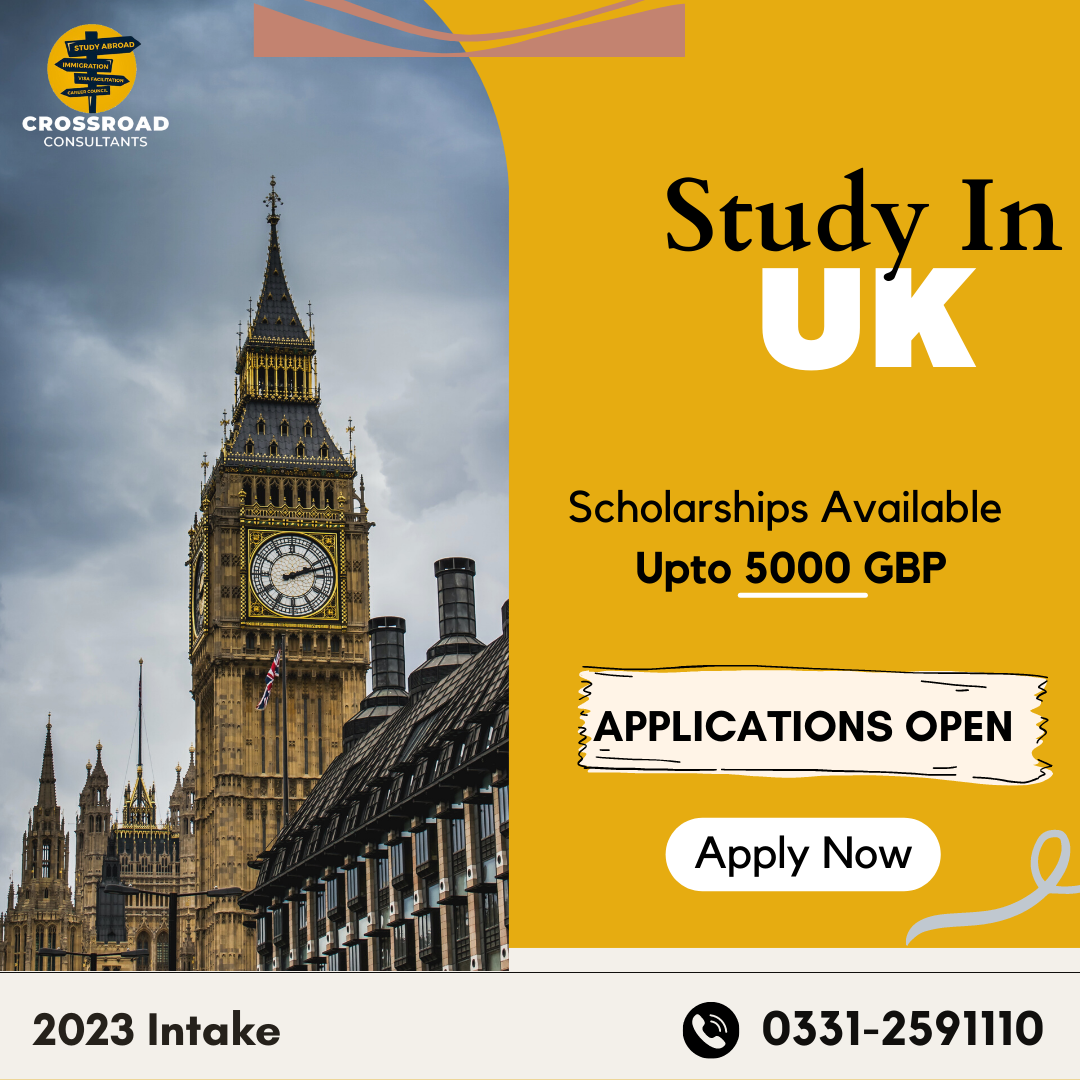 Some of the Universities example we recommend in the UK
Hult International Business School
UK Scholarship
There are alot of scholarship and financial aid options available in UK and is the best places to study abroad for Pakistani students. Also Crossroad Consultants Can help to achieve up-to 5000 GBP Scholarship. Moreover, UK gives you Post-Study Work Visa of 2 years after completion of your degree.
One of the best places to study abroad is USA. Although attending university in the USA can be expensive, organizing your budget carefully will help you manage your money wisely. To help you prepare for your new life in the USA, have a look at our in-depth advice on the cost of study, tuition costs, living expenses, and the most cheap universities in the country.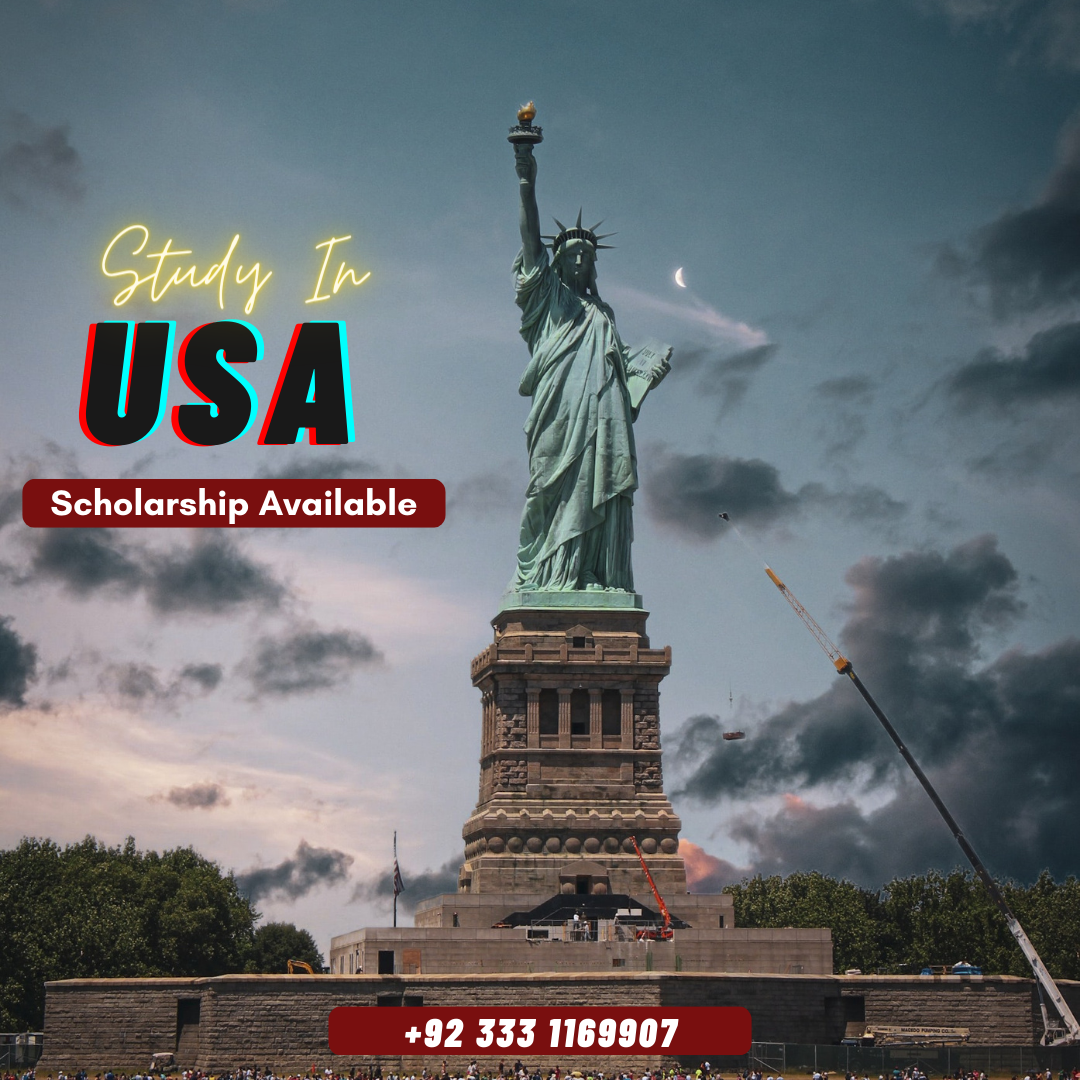 Tuition Fee
Your tuition costs will vary depending on the degree program and university or school you choose. You will require approximately $10,000 to $55,000 per year to pay for tuition (indicative). USA is an expensive option but best places to study abroad for an international student.
School
Indicative tuition fees (USD)
English language studies
$700 to $2,000 a month
Community colleges
$6,000 to $20,000 per year
Undergraduate Bachelor's degree
$20,000 to $40,000 per year
Graduate Programs
$20,000 to $45,000 per year
(An MBA degree can cost significantly more, as can professional programs such as law, medicine, dentistry, some design programs, etc.)
Doctoral Degree
$28,000 to $55,000 per year
(Most doctoral degrees are 100% funded through research/teaching assistantships, research aid and bursaries.)
MBA Program (average cost)
Around $60,000 (indicative).
Cost of Living
Cost of Living in USA is expensive but for future prospect in terms of career and setting down USA is considered to be the best places to study abroad for Pakistani students.
| | |
| --- | --- |
| Accommodation/Expenses | Rent/Cost |
| Hostels and Guesthouses | $45 to $100 a night |
| Shared Rental | $470 to $3,600 per month |
| On campus | $800 to $900 each month |
| Homestay | $600-$3,000 per month |
| Rental | $450 per month |
| Internet/phone | $35 – 60 |
| Food | $17 – 42 in average |
| Rent | $104 – 208 |
| Electricity/gas | $50 – 100 in average depending on the size of your apartment, and if your heating is electric, the overall price may go up to 150 USD/month |
| Transport | 44 USD |
| Phone subscription | 50 USD/month |
| Books and other study materials | 400 – 1,000 USD/ academic year |
| Health insurance | 700 – 1,100 USD |
scholarship Is USA
There are alot of scholarship options available and this makes USA best places to study abroad for Pakistani students.
Why Apply With Crossroad Consultants?
Defining best places to study abroad for Pakistani students, Crossroad consultants has successfully worked with thousands of students for their university application and visa process. We provide complete analysis and assessment of universities and programs.
We offer free consultancy service from which you can get answers to your queries. If you further have any question feel free to give us a call at 0331-2391110